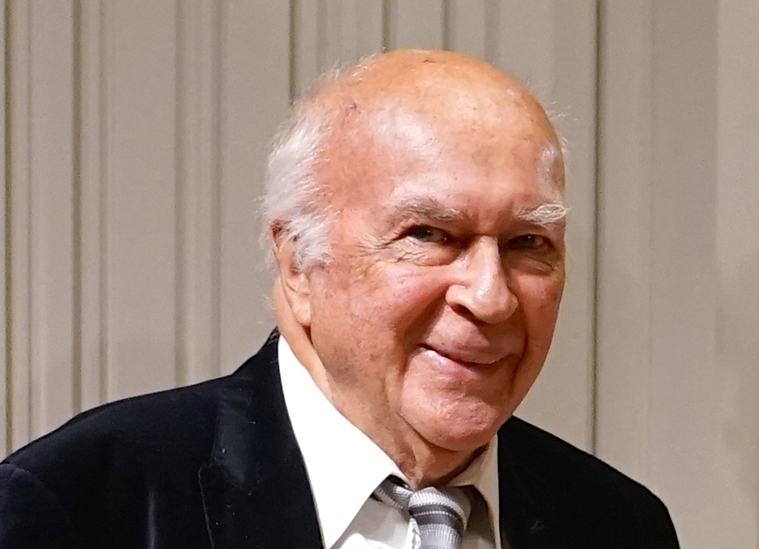 With his office at the "Platz der Republik" in Franfurt am Main, the lawyer Walter Witte was a prominent personality in post-war Frankfurt. Those who got to know him better appreciated him as a humorous philanthropist, a generous sponsor, and a lover of music and the visual arts.
He was born in 1928 near Lübeck as the only son of a German-Belgian couple. His childhood was marked by the small family's frequent changes of residence. At the age of 10 he received his first violin lessons. In 1944, like almost all young men of his year, he was drafted into military service. Walter Witte, a Luftwaffe (air force) assistant, was able to combine safety and enjoyment through his violin, performing frequently in the officer's clubs.

After the end of the war he finished his Abitur and began an apprenticeship as a bricklayer. His dream job, that of an architect, remained closed to the artistically gifted Walter Witte. Instead, in 1949 he took up law studies and married after successfully passing the state examination. Together with his wife Beate, he founded his own law firm in 1960. He was also the managing director of a small industrial association.

Walter Witte had already assisted the renowned Frankfurt lawyer Henry Ormond during his studies. Through Ormond's intercession, a further, significantly more fulfilling task came in addition to his existing practice: Witte and his wife successfully represented several thousand claims for compensation of those persecuted by the Nazi regime, who now lived in Israel, the USA and other countries.
Soon after the founding of its German section, Amnesty International gained a resourceful and dedicated colleague in Walter Witte.

Towards the end of his professional career, Walter Witte travelled extensively on educational trips to four continents, and lived alternately in Ibiza and Frankfurt. He wrote a biographical work on Henry Ormond and composed lyrical poetry. Walter Witte took painting lessons, drew in small and large formats and created sculptures. An exhibition in Frankfurt in 1994 enabled insights into his graphic work.

After the untimely death of his wife in the 1980s, he found his way back to his musical beginnings, though this time through the viola instead of the violin. He was fascinated by the warm sound of the viola and he used it as a tool to communicate with others through the medium of chamber music.
Having acted as a legal advisor and treasurer to the DEUTSCHE VIOLA-GESELLSCHAFT, he then founded his own VIOLA FOUNDATION in 1994 with a starting capital of 100,000 DM "in the knowledge that viola music in particular deserves to be recognized in its beauty, and that young violists deserve exceptional support". He was dedicated to this task until his death in March 2020. The VIOLA FOUNDATION WALTER WITTE has been the administrator of his legacy ever since.